Enzoic for Active Directory
Enable AD password policy enforcement and
secure passwords with daily screening for exposed password
Complete Password Protection and Continuous Active Directory Monitoring
A password that was safe yesterday may not be safe today. That's why it's important to screen for compromised passwords continuously.
With Enzoic for Active Directory, enterprises can secure their business and employee accounts by eliminating unsafe passwords and easily adopt NIST password requirements.
Get Active Directory security with:
Automated compromised password detection
Full credentials monitoring
Continuous ongoing password monitoring
Custom password dictionary
Blocking of username derivatives
Fuzzy matching with common character substitutions
Try the free password auditor and check for your domain's password vulnerabilities.
---
---
Fresh Exposed Password Data
Enzoic indexes newly compromised passwords on a daily basis so your organization is immediately protected. Our data is sourced from the public Internet, Dark Web and private sources. It is updated continuously by proprietary automated processes and human threat intelligence.
---
End Forced Password Reset
By continuously monitoring for compromised credentials, organizations can stop enforcing periodic password resets, meaning that users only need to change their password if it is compromised. This reduces IT help desk costs and improves security because users will choose better passwords if they don't have to change them frequently.
Continuous Password Monitoring
Enzoic for Active Directory allows for real-time blocking of unsafe passwords at set-up and then automatically provides continuous monitoring of those same passwords to ensure they don't become vulnerable later. This is essential because a password that was safe yesterday, may not be safe today.
---
We selected Enzoic for Active Directory because it automates compliance with the NIST password guidelines and it can be installed in just a few minutes. It includes continuous exposed password filtering and if bad passwords are found, remediation is automated so it does not create any additional work for our IT team. The custom local dictionary enables us to block our company name, product names and some of the common words our employees may choose to use. The experience is seamless for our users. It only impacts the users that are using bad or exposed passwords, all other accounts are protected without any additional friction.
How Enzoic Secures Active Directory Passwords
Using a standard password filter object, Enzoic allows you to create a "set and forget" AD password policy to detect password vulnerability in Active Directory, as well as hybrid Azure AD environments, and third-party Active Directory password reset tools.
When a new password is being created, a partial hash is evaluated against Enzoic's database to check to see if the password has been seen in a data breach, is easy to guess, is commonly used, or matches your configuration settings that may make the password vulnerable to your specific environment.
Then daily monitoring against Enzoic's continuously updated database detects if a good password becomes unsafe. Enzoic automates remediation with a variety of configurable actions that include requiring an Active Directory password reset.
---
NIST Password Guidelines
Screen for commonly used and compromised passwords to prevent people from selecting these easy to guess passwords.
Download E-Book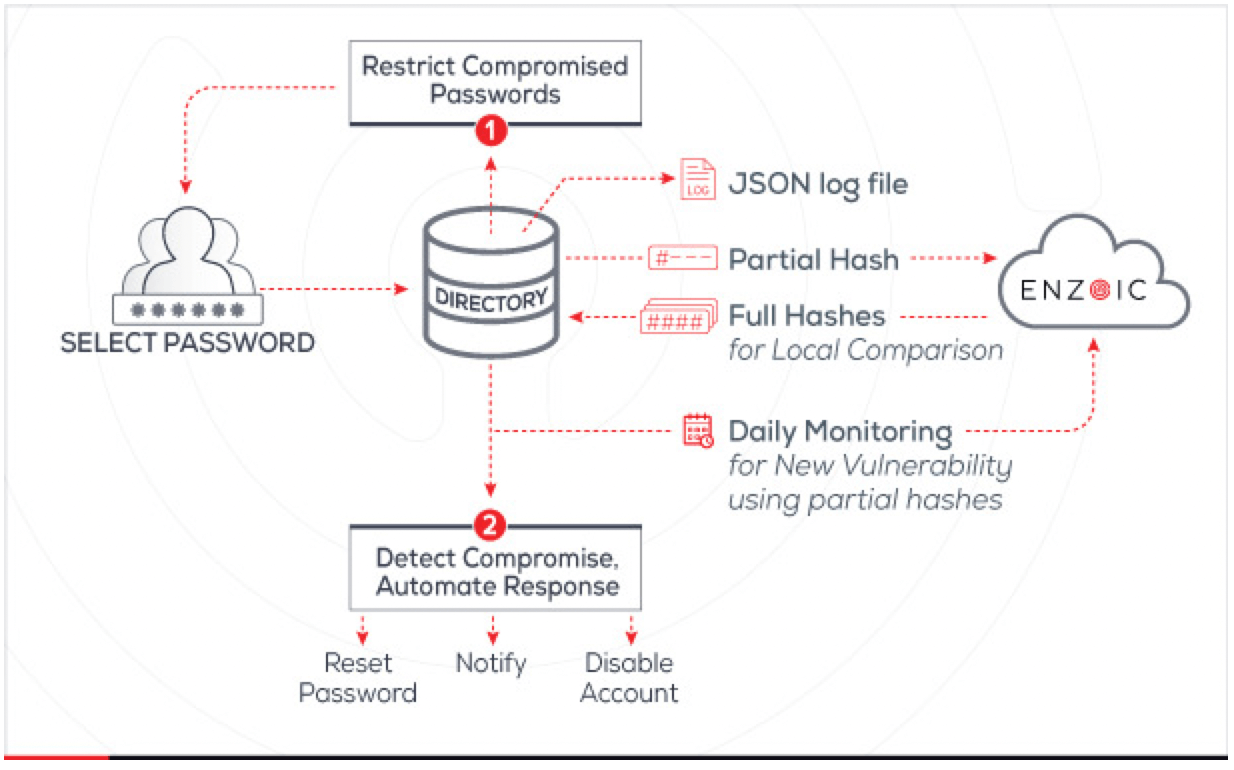 Get started simply by downloading and running the installation wizard on each domain controller.
Initial installation and configuration typically takes 15 minutes or less, though this may vary depending on the complexity of your environment.
Register to Start
---
Enzoic for Active Directory provides:
---
One-click NIST password compliance screen

AD password policy blocking user credentials

Customizable and brandable notification

Periodic summary report for admins
Root password & similar password detection

Automated compromised user reporting

Easy SIEM integration
Make detecting and eliminating compromised passwords in AD easy and frictionless with a simple plug-in.
Automation Can Help Save The IT Team Time and Energy
The goal of Enzoic for Active Directory is to allow IT to set it up and then just let it run. When an existing password becomes vulnerable, the remediation steps are automated instead of manual intervention.
Enzoic for Active Directory can meet all the NIST password policy guidelines. It serves as a comprehensive, automated password blacklist that filters for weak, commonly-used, expected, and compromised passwords.
Organizations have unique needs, so automated responses can be customized when compromised or weak passwords are found. The organization can select the appropriate automated action and the timeline for that action. Alerts can also be sent to the user, the help desk and/or an admin.